Personal Training
Why Personal Training?
A Personal Training Program will motivate you to Achieve your Fitness Goals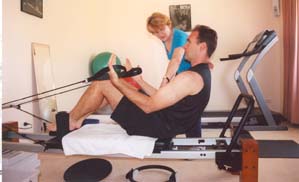 WHAT ARE YOUR FITNESS GOALS?
Exercise Correction and Pain Management

Improve Posture & Flexibility!

Tone & Strengthen!

Increase Energy!

BENEFITS YOU CAN EXPECT!
An enhanced state of health and wellbeing.

A leaner more toned appearance with increased strength

Increased ability to deal with stress

Decreased incidence of back pain

Increased bone density and joint mobility
…...The list could go on and on, but the least you can expect is an overall improvement in quality of life
What is a personal trainer?

A professional dedicated to your personal development.
The role of the personal trainer is to help you achieve individual fitness goals and to provide you with motivation, results and above all personal attention.
What Services are INCLUDED IN YOUR PERSONAL TRAINING ?
=> Lifestyle Assessment
Where we establish a benchmark of where you are at. Postural evaluation - current level of fitness - Blood Pressure
=> Goal Setting
Realistic short, medium and long-term goals are then set.
=> Personalized Exercise Program
Designed especially for you in accordance with your individual needs and abilities.
=> Supervised Exercise
You will be provided with Education, Correct Technique Instruction and motivated throughout your balanced exercise session.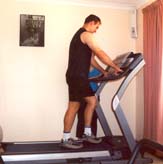 What Activities are included in your Personal Training Program?
A personally tailored selection of activities will be used to achieve your goals, these may include:
Pilates
Strength Training
Fitball
Stretching
Cardiovascular exercise (Outdoors or Indoors)
Personal Training  Fee Schedule (as at 1/1/2014)

Number of Sessions per Week
Weekly Payment

Monthly payment
10% Discount

10 week package
25% discount

1 session
per week

$60

$215 month

($54 per session)

2 sessions
per week

$100

$360 month

($45 per session)

3 sessions
per week

$135

$480 month

($40 per session)
Payment & Cancellation Policy:
Personal Training sessions may be paid on a Weekly, Monthly or 10 Weekly package.
All Payments are to be paid in advance.
A discounted price is offered when attending more than 1 session per week.
(To receive the discounted price all sessions for the week must be attended)
As can be seen in the above table you can receive 10% off for monthly payments or 25% discount for a 10 week package.
Sessions purchased in advance are valid for 6 months from date of purchase, unless otherwise specified.
Cancellations need to be made at least 24 hours prior to session time; failure to attend will also result in the session charge being applied.
It is understood that from time to time it may be necessary to cancel a session without the necessary 24 hours notice - If this happens exceptions to this policy may be considered depending on the circumstance.
SESSIONS ARE NON-TRANSFERABLE & NON-REFUNDABLE.
INCLUDED IN THE ABOVE PRICES:
LIFESTYLE/POSTURAL ASSESSMENT - GOAL SETTING
PERSONALIZED EXERCISE PROGRAM
NEED SOME EXTRA SPECIAL ATTENTION

A Personalised Service is Available
3 x 1 hour sessions, includes Postural Assessment & Program to do at home.
Cost $250
Please Call Ann on 0407 141243 to make an appointment