2015 Group Classes Timetable
2015 Tentative Term Times
TERM 1: Mon February 2 - Thurs April 2 (Mon, Fri, Sat - 8 weeks. Tue, Wed, Thurs - 9 weeks) Public Holidays: Labour Day March 2, Good Friday April 3)
TERM 2: April 20 - July 4 (Mon 9 weeks, Sat 10 weeks, Tue, Wed, Thur, Fri 11 weeks)
TERM 3: July 20 - September 5 (all classes 7 weeks)
TERM 4: October 15 December 16 (All classes 9 weeks)


Time

Mon

Tue

Wed

Thur

Fri

Sat

9.30am

Release & Relax


10.30am

Pilates Essential



5.30pm

Power Paced Pilates

Pilates Floor Class


6.30pm

Release & Relax


Pilates Essential


Fees & Memberships:
Term 3, 2015: Monday 20 July- Saturday 5 September
1 Class per week: $115. (earlybird - $105)
2 classes per week: $210. (earlybird - $195)
3 classes per week: $280. (earlybird - $245)
Deadline for Earlybird discount - July 13th
Bookings will only be confirmed once payment has been received.
Call Ann on 0407 141243 for bookings,
Bookings are essential for all classes, book early to avoid disappointment as classes book out.
Payments may be made by cash, Money Order, cheque or direct debit via the internet.
Venue: Ace House cnr Spencer & Stirling Streets, Bunbury. Enter from Stirling Street, Unit 3 upstairs.
Casuals: Fee $18 per class - Experienced Pilates participants may attend on a casual basis providing there are vacancies - preference will be given to block bookings.
Missed Classes: Refunds are not available, but you may make up a missed class by attending another class, provided it is during the same Term. Classes will not be carried over to the next term.
Credits: Will only be given in special circumstances and will require a doctors medical certificate. If a credit is given there will be an admin charge. You will be given a credit to attend classes at a later date when you have been cleared by your medical professional.
Please note: This should be within a reasonable time in keeping with your injury or illness.
Rebates: Health Insurance rebates do not apply.
Class Descriptions:

Pilates Essential Class - Level 1
For people who are new to Pilates.
A structured beginners program designed to introduce newcomers to the Pilates method & principles. You will learn the fundamentals of Pilates ( this can be built on with more challenging exercises as you progress to the next level) There is a strong focus on posture, core stability and body awareness.

Pilates Basic Class - Level 2
Participants must have completed a structured beginners program and be ready to move on before commencing this class.
Basic level takes you to the next level & focus is on developing, strength, stability, flexibility, stamina and broadening the Pilates repertoire of movements. Small props such as balls, resistance bands, foam rollers & pilates circles are introduced to further enhance strength, tone & Stability and to add variety to your classes.



Pilates Floor Class - Level 3/4
For those who have a good understanding of pilates with the knowledge and strength to participate. Focus is on further developing strength and learning more challenging movements.
The use of exercise balls, tone balls, strength bands, foam rollers & athletic circles further enhance strength, tone & stability and add variety to your classes.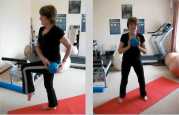 Power Paced Pilates - Level 3/4
For those who have a good understanding of the Pilates Method and are ready for a challenge. Energize your workout and your life with this power-packed Pilates workout. Burn calories, boost energy levels, improve body image and confidence with this low impact workout, the use of ChiBalls & Foam Rollers to generate energy, mobility, flexibility, balance & self awareness. Gymstick™ for dynamic core strength muscular strength & coordination, improve fat loss & toning. Exercise balls & light-medium hand weights will also be incorporated into your workout to further challenge core stability.
(joggers or comfortable walking shoes are required for the warm up.)

Release and Relax (formerly Stretch & Relaxation):
Ideal for all - Release tension and stiffness in the neck, shoulders, back and legs. (It is recommended that you attend a term of Pilates essential classes in order to get a better understanding of your body & movement)
Focus is on stretching the whole body utilizing the principles of Pilates through a series of poses, stretches. With the use of the various props such as body bolsters, foam rollers and chi balls to increase sensation and awareness of the joints and muscles.

Need some Extra Special Attention
A Personalised Service is Available
3 x 1hour Sessions, includes Postural Assessment
& Program to do at home
Cost $250
If you would like to know more Call Ann 0407 141243